We were busy packing on the weekend. There was a lot to bring to school!
Mickey courtesy of Tumblr
Week six had finally arrived. The day we had been waiting for since we started in grade three.
We were going …. Camping!
Yay.
Most of Mrs Woolford's year 3/4 class would be joining our excited campers. We left our families for three days and two nights. Would they survive without us? They would just have to be brave. But it was okay if some parents needed extra hugs good-bye.
This slideshow requires JavaScript.
We had a long two hour journey to get to Camp Illawonga in Swan Reach, which would be our new home for the next few days. Thankfully the coach had comfortable seats and seatbelts.
Map from Illawonga home page
The road trip was fabulous, but travelling made us hungry, so we stopped to stretch our legs, have a bite to eat and of course have a little playtime. Angaston was the perfect place.
This slideshow requires JavaScript.
Another short ride, well sort of …… and we were soon settled into our dormitories at camp. Our class was on lunch duty so it was straight to work. Yum … Tacos.
This slideshow requires JavaScript.
Mark, the Camp Leader, gave us a lot of information and instructions about being safe for our stay and expectations around the camp site. Soon it was back on another bus for a short ride. We were crossing the Murray River on the punt to visit The Murray Aquaculture Centre. This was an interesting place where we learnt about almond farming and yabbies.
This slideshow requires JavaScript.
That was fun because we also had a challenge  to see which team would catch the most yabbies. Yabby catching sounded simple enough, but there were some tricks to learn…… patience.
This slideshow requires JavaScript.
The girls were Yabby catching heroes, how did they do it!
The sun was going down, and it was getting cooler, but there was still so much to do… more duty groups for tea.
This slideshow requires JavaScript.
After our delicious meal, we went into the gym for some outrageously exciting fun. Unfortunately, I didn't bring the still camera!… But trust us, we worked up an appetite for a yummy supper with twisting and jumping, turning and rolling, hanging and falling…… before it was time to hit the sack. We had a huge day planned so we needed our beauty sleep.
This slideshow requires JavaScript.
Some of us slept soundly. Poor little Scarlett.
Up and at em, the next morning was quite eerie. A mysterious fog crept in, it threatened to hide the sun… but we found it.
This slideshow requires JavaScript.
Lucky the Sun burnt off the fog by the time we were ready for our river cruise. We needed our floatation devices before we could walk down to the boat.
While we went on the cruise, the other groups went on a caving expedition and a Safari ride. We would all rotate activities throughout the camp. Once again, I left the still camera behind for the cruise… but I remembered it for the ride to the caves.
Those hard hats were fabulous protection, without them I think we would all be a little shorter!
After that adventure we had a short bushwalking to a HUGE river red gum. That tree was so big we just fit around it! We had enormous fun building Tepees with all the twigs and sticks lying around.
This slideshow requires JavaScript.
Each time we visited the river, it meant a short but steep 400m walk down a gravel path… naturally we had to walk back up too. That was tiring, luckily Ellen makes us do fitness each week so it was a piece of cake.
This slideshow requires JavaScript.
We needed to get back to camp quickly, as we had to get ready for an exciting adventure at Sunny Dale sheep farm.
This slideshow requires JavaScript.
What a whip cracking great time we had. We really earned our tea that night. In fact some us sang after supper! Karaoke was so much fun, we have stars in the making. Stay tuned for the videos.
It was a perfect night for a camp fire.. but oh,we forgot to sing a Letter from Camp! Still the planets were smiling for us in the night sky. Then of course the marshmallows needed toasting… yum.
Time for bed, it was a big day indeed and it isn't over, there's more to come. To bed!
This slideshow requires JavaScript.
Getting up wasn't that easy, lots to pack and clean up before breakfast and be ready for our last activities. I missed the Safari ride, but I did managed to check out archery. We had some bullseyes. Bravo.
This slideshow requires JavaScript.
All too soon we needed to pack the bus and say our goodbyes to Mark and the team. Camp was the best. Three cheers for Illawonga.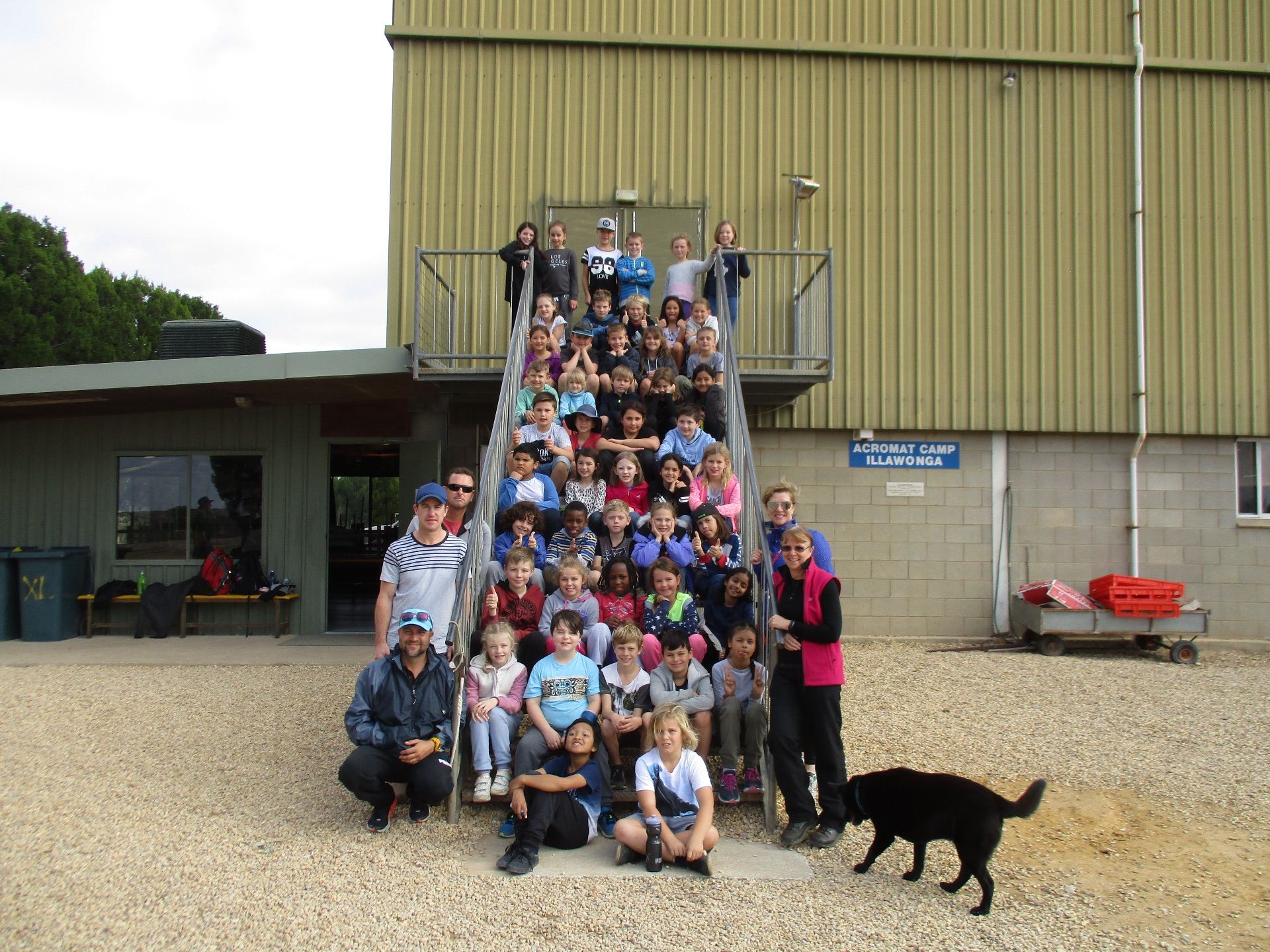 We reckon it was sad to leave, but we were glad to get back home to our loving families too. Thanks to our brave Dad, Shane Brow who gave up his time to help with the boys and group C.
This slideshow requires JavaScript.
Dear Families,
Apart from a few sore tummies, there were no problems just loads of fun and learning. Thank you so much for allowing me to borrow your precious ones for those few days, we have some wonderful memories. Stay tuned for some great videos the kids will be working on. I might have a go too.
Warm regards, Ellen