This term we have been fortunate to have Chess expert Alan Goldsmith from Knights & Bytes teaching us all about the game of Chess. He has been teaching Grange kids and staff the skills of how to think logically and strategically  in order to capture the opponent's King for many years.
Alan taught us about each piece and how to move each piece. We also needed to know how much they were worth if we captured one.
While we knew the information, winning a game is about careful thinking, planning and strategy! We found out it is important to think about the opponents next possible moves. We gave it a go.
Alan taught us to read the board as if it was a map and we could move pieces according to their position. for example Q to F4.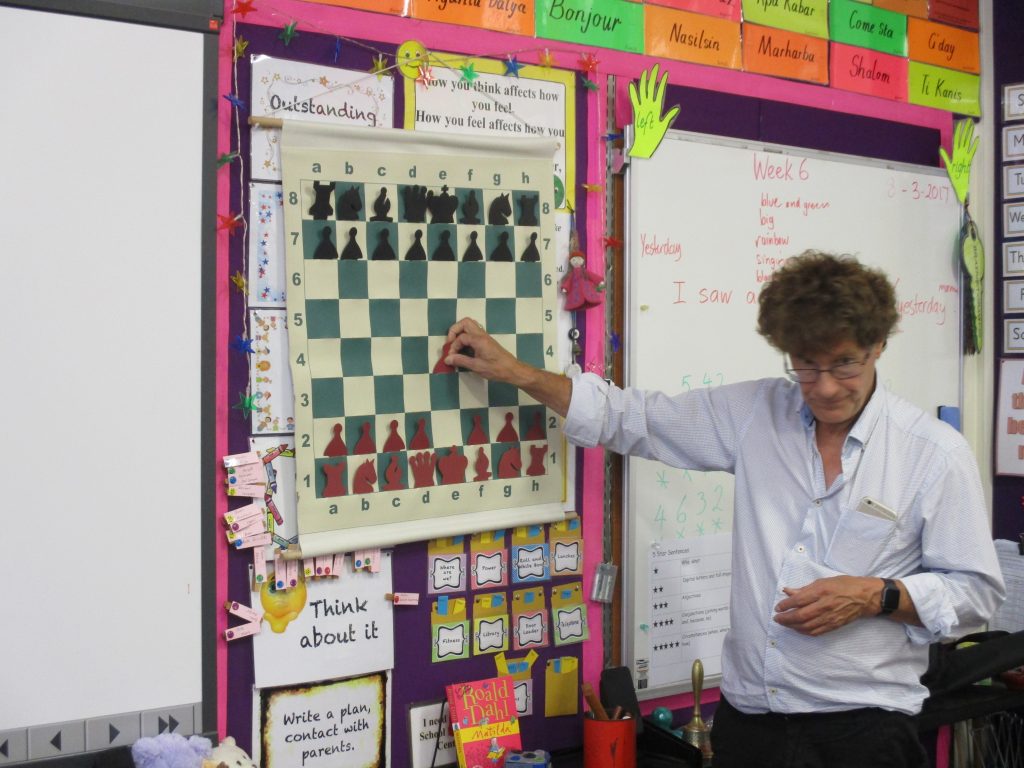 Did you know you need to do CPR in chess? That means if you hear that your King is in Check there are three things you should do.
C

 – Capture Can you capture any piece? If you can, then do that and the King is safe, if not then…
P 

– Protect 

Move a piece in to protect the King, if you can, then the King is safe, if not then…

R 

– Run 

The King needs to flee to safety!
Chess is all about protecting the King.
But if you want to do some extra chess playing go to www.chesstempo.com that is a site that will teach you exciting strategies.
If you really want to get into more chess then checkout  www.knightsandbytes.com.au   Alan has a host of chess information and activities available for you to peruse.
Next term we are having a chess tournament to find the top players in year three. Will it be you?  Start practicing.
What have you learnt about Chess?
What would you still like to know?
Do you think playing chess is a useful activity? Why, Why not?