Collaborative Learning Teams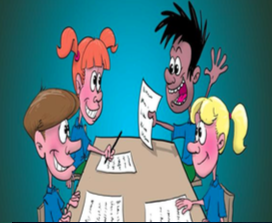 Collaboration is more than just working in a group. Our mantra "We work together, we think together, we act together, we collaborate." is at the core of our team work. I believe it promotes
Higher achievement
Deeper understanding
Enjoyment
Development of leadership skills
Positive attitudes and behaviours
A sense of belonging
What language is that? 
When working in our learning teams, we practice the use of sophisticated collaborative language which comes from a variety of sources and strategies for developing our learning such as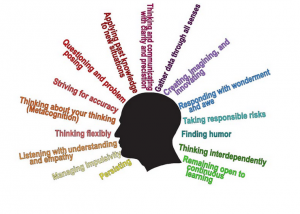 The Habits of Mind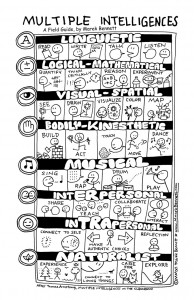 Gardiner's Multiple Intelligences
Kaizen
A Japanese term that essentially means "continuous, never ending, seemingly insignificant improvements to work practices and personal efficiency."
We sing the Kaizen song – to the tune of "Mary had a little lamb."
"Kaizen is a little bit,
little bit, little bit.
Kaizen is a little bit,
getting stronger every day."
The language of suggestion and negotiation as well as choosing the right mindset.
This doesn't come easily and takes lots of modelling and practice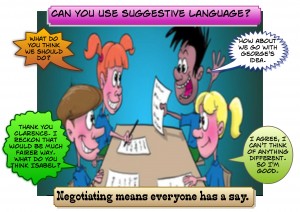 but working together, we get there.
Our criteria for success was agreed to so that we can have a classroom that is clean, happy, safe and shared.
When everyone collaborates we make learning enjoyable for all.
Therefore we will 
Be on time, be on task and be organised
Demonstrate respect for other people, our property and ourselves
Behave appropriately at all times
Always be our best and do our best.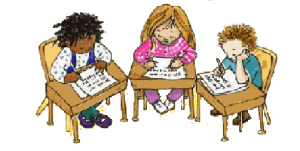 What are Learning teams?
There are four roles in each team
Chairperson – runs meetings/task
Gofor– goes for team equipment, hands up finished work etc
Recorder – records teams thinking
Timekeeper/Encourager – reminds team of responsibilities and keeps them on task
Teams stay together for five weeks so we have two new teams a term. Each week members change seats to fit into a new role. At the end of their time together each team members provides explicit written feedback on their interdependence skills in the form of a letter. I organise teams for the first two terms.
Learning Team Morning Meetings
Each morning teams get together for a meeting to check how organised for learning we are. Students need to share successes in having diary and reading log filled in and signed, a pencil or pen if on pen trial, a reader and a drink bottle of water. They use a Team Log to keep track and enter that onto the IWB each day.
On Mondays the team negotiates a focus for the week. When we were learning how to write a focus they were usually fairly simple needs e.g. "Pushing chairs in so we don't have accidents" or  "working quietly so we can hear Ellen"
As we became more confident using the log and working together, the foci have become more sophisticated and targeted for individual team needs. We always ask these questions – What are you going to do? Why are you doing it? and How will you do it? These are the foci from week 2 term 3.
Our teams have certainly come a long way in working together and thinking together.