Making wonderful music in one lesson.
We had just the best day today. We performed a music concert for a small crowd. How good was that.
Earlier today, classes were booked into a music workshop with Jon Madin. This is him. To learn more about what he does, go to his website ( where I snuck this image) http://www.marimbamusic.com.au
Jon is a  very talented musician and brought a wide variety of instruments for us to play. He told us he made these wacky instruments himself which impressed us. They were bizarre indeed. There were items that were familiar, but were a strange mix of  objects we might use for different things, such as echo cellos, musical bikes, drums and musical boxes. Although they didn't look like classical instruments, they sounded amazing especially when we all played together.
We started out learning how play three patterns on the marimbas.
The melody seemed familiar and when Jon started to sing with his guitar, we recognised The Hokey Pokey. That was fun, at the concert we had Sarah, Matthew and Sophie leading the audience in the dance too. They were very enthusatic models.
After becoming quite good at that tune, we moved over to where the echo cellos were situated. Jon demonstrated how to get the cello to rest on our left shoulders and how play using the bow. It was quite strange holding our right arm and only moving from the elbow.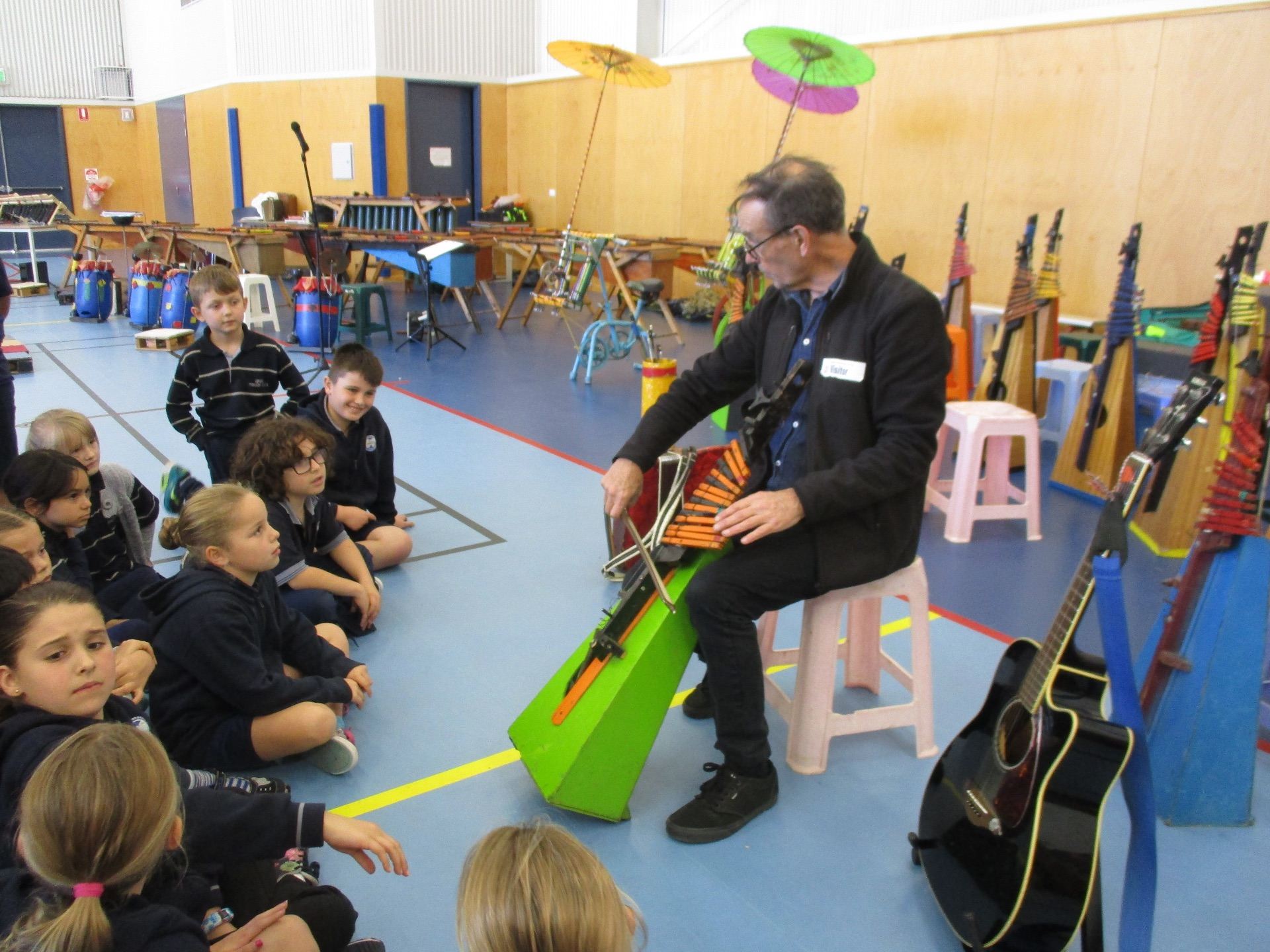 We played a tune called Mama don't allow. Which was quite interesting because she didn't allow it, but we played it anyway. We had four students to help with the music boxes too.
Jon was teaching a few classes different songs throughout the day and then at the end of the day we were all invited to play for an audience. He asked some parents to help with some percussion and made the teachers learn a song to perform.
This slideshow requires JavaScript.
We had a ball. It was a delightful concert with classes showcasing their newly developed skills. Today Witungga Hall, tomorrow Festival theatre! We highly recommend Jon and his wacky instruments.
What did you enjoy most in the workshop?
Which instrument do you believe sounded beautiful? Why?
What type of music do you prefer to listen to?
Do you play a musical instrument? Would you like to? Which one, why?