Visited our school performing their
Mini opera of Epic proportions
"How Hercules gained his powers!"
A publicity shot of the performers
Monday afternoon our class and a few others were entertained by a Musica Viva theatre group Sounds Baroque. They performed their production of How Hercules gained his powers!
Through drama, song and comedy, Sounds Baroque told the classic morality tale using authentic baroque instruments, rap, rich costuming and modern language. The audience was indeed captivated by its sheer originality of the blending of the concept and styles. (Their flyer was inspirational in this paragraph!)
 How exciting it was, waiting for the performance to start. Lots of classes came to join us.
"It was interesting because there was lots of acting and music."  Nelson
"The old fashioned instruments were cool." Bella V
"Hercules was very funny in his dance moves." Jack
"It was funny when Lyco bopped up and used that mean laugh. Huh, huh, ha." Ruby
"Hermione had a really good singing voice." Ella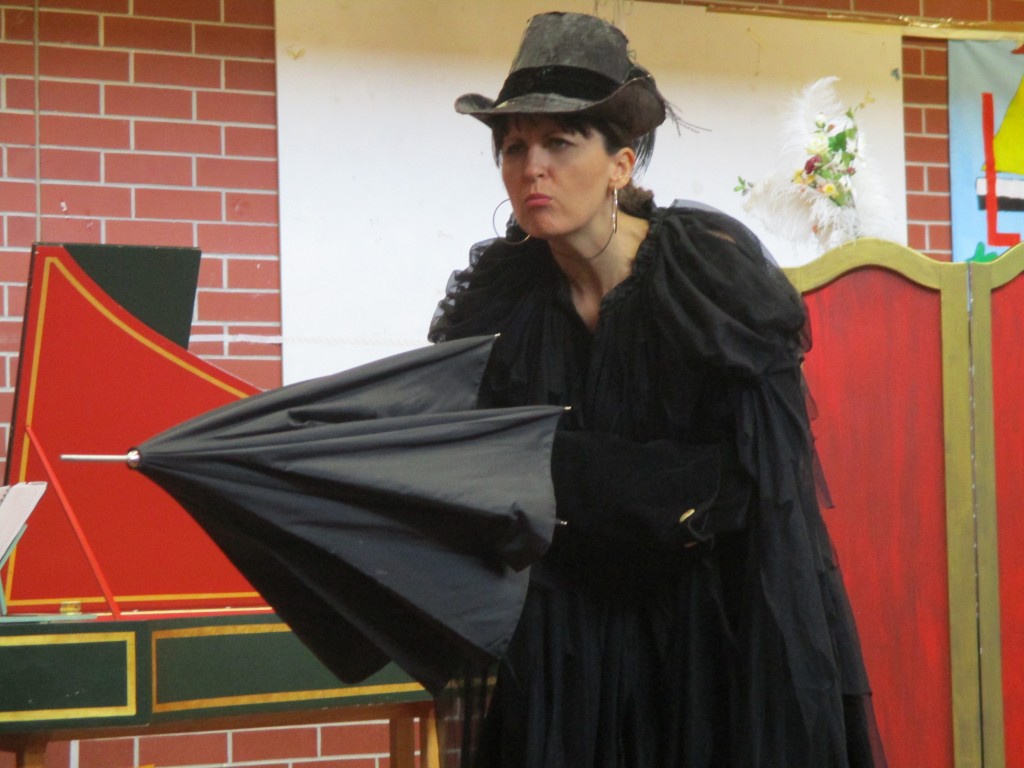 "It was funny when the lady did funny things with her umbrella." Baylee
" It was a bit weird, the crow thing using the umbrella." Wil
"It was funny when Apollo said, you are on fire and hot. (She was the Sun!)"  James
"It was weird when they sang high and low, I didn't like the sound of it." Tyla
"I thought it was good the way they sang high and low. " Kiara
How professional does Tyla look at the keyboard of this Harpsichord?
After the performance we gave them some great feedback. They were happy to answer any questions. One person asked about the harpsichord. The presenter told us how the sounds were made and we learnt that the sound is plucked by a piece of quill. The harpsichord is an old stringed instrument, used way before the modern piano was created. It makes an unusual sound.
He invited someone to play a tune. Our classmate Tyla was chosen and she made us very proud playing happy birthday on this unique instrument.
Let me know what you think
What did you think of the performance?
Which character did you think was dramatic?
Had you heard of any of these characters before? Where?
What do you think of opera? Do you like the way a story is told in song?
What story would make a great opera? Why?