Hi everyone,
I have missed being in touch with you and thought I'd let you know what I was up to these past few weeks. As you know I went to a couple of islands in Vanuatu with my husband Peter. Here is a map showing you exactly how far I travelled. It took almost four hours to fly there from Sydney. Have you ever been on a plane? Where did you go?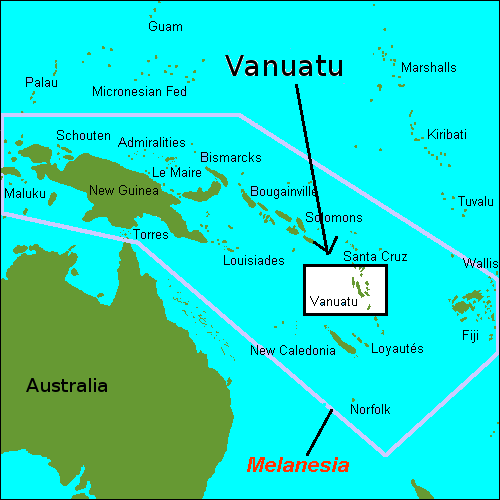 As you can see Vanuatu is about the same latitude as Cairns, so if you have ever been there the climate is very similar. This part of the world has a tropical climate so there are lots of rainforests and the terrain is mountainous. I stayed on the largest island Espiritu Santo for ten days. The local people refer to it as Santo. Then we caught a plane to go South to a smaller island Tanna for the remainder of our holiday.
In Santo Peter and I stayed in a resort by the ocean in a small Bungalow and I was able to look out of the rain forests to watch the ocean.
Of course the first thing we did was to snorkel the warm waters, where we found some interesting creatures. Have you ever been snorkelling?
There are some amazing rivers that are fed by underground springs. We were able to travel by traditional canoe down one. Peter even got to paddle, then we were able to swim in a blue water hole. An absolutely incredible experience. How do you feel about sitting on little boats or canoes? Do you think you could paddle one?
Of course there was more snorkelling and more friends to meet in the waters.
On Santo there are villagers that want to share how their traditional way of life works so they invite visitors in to show us their ways. They build all their huts and make various tools from their favourite tree .. the coconut tree. For them it a sacred tree because it provide so much. They get to drink the water/milk, coconut flesh to eat, cophra for cooking, husk and fibre for weaving, wood for building, the shells can be used for utensils or decorations. It is truly a useful tree nothing is wasted.
The villagers met us with a welcome dance and then showed us to separate huts, one for how the women and girls were taught and the other how the men and boys learnt what to do. Only men are allowed to make fire, they showed us their way in the women's hut. They also make a special drink called Kava which was interesting to taste, it made my tongue and lips go numb!  But on other islands in Vanuatu, Kava should only be drunk by men.
I loved the dances by the people of the village. At one time all the women went into water and made music with their hands by slapping the water. it really sounded as if they had drums, amazing. While they are not an aggressive tribe, they pretended to threaten us in their dance routine… mm was I scared?
Yes we did more snorkelling, but we also went to visit the higher villages and do a trek to The Millennium Caves, so called because they were opened to public visitors in 2000. For this trip we began our walk at a small village where we were introduced to a tribal elder who would escort us to the cave. As we walked through his village we saw a small school, the teacher kindly allowed us to photo them learning their A,B, C's. I noticed how carefully they were repeating their teacher. 
Remember our research on Papua New Guinea? This country is very similar in lots of ways. How does this school compare to ours?
As we trekked through this village we came upon another close by where we met another guide. So Peter and I had a guide each to check we would safely get through this adventure. One obstacle to get over was a bamboo bridge. That was fun. Then it was through the jungle. we were given information about the different plants and their uses and warned not to touch certain ones!
Our trek took us deep into the jungle and through lots of hilly and steep terrain. Thankfully the villagers had built ladders to climb down or had ropes to hang on to. The sun was shining that day and it became quite hot. However this is an area with high rainfall so this track can get very muddy indeed. Before we could enter the cave, our guides painted our faces with symbols to represent the water, rocks and animals of the cave system.
What an honour to be allowed to go in, I was getting excited because I knew there would be bats in there! Once we got way down to the cave's entrance we could sense a new adventure just beginning. This cave is 300 m long 30 m wide and 50 m high. We had to walk through water and the base is mainly rocks and pebbles.. very slippery! Lucky we had torches and our life jackets! How do you feel about going into strange wet, dark places filled with flying things?
Inside the cave it was quite cool, I could hear a lot of flapping sounds, I think we startled the small fruit bats and swallows that call the cave their home. Every now and then small bits would fall on me…bat poo! It was quite strange walking through the chilly water in the dark and trying to keep from slipping. After walking for some fifteen minutes, weaving through the twists and turns of the cave, we came out to a small river that ended with huge boulders. We would need to climb up over these.
It took about half an hour to get over the large boulders and then we had the best experience, floating down the river through the canyon. That part was awesome.
There we in fact several rivers to float and swim through as the water level was low. There are times of course when visitors would not be allowed to do this when the river levels are very high. we were fortunate of the drier season. On the way back to Tony's village he showed us the village garden. They grow all their needs and then bring excess to market. We had a fabulous time and were thankful of our guides help for the dangerous bits. We completed the trek in about four and a half hours, apparently we did well because we heard the next group took twice as long,but then it was a group of twenty and it had rained the day before so everything was very muddy, but we did feel proud! Do you grow any vegetables or fruit to eat? What grows in your garden? Have you gone trekking? Where did you go?
On our last day in Santo of course we did more snorkelling. This time we went to Million Dollar Point. During the second world war Vanuatu was used by America as strategic command base. When America no longer needed to be there, they wanted to sell their equipment to the French government, who, knowing America couldn't take all that equipment back, said they wouldn't buy it. They thought that the Americans would leave it behind. But the American army had other ideas, they built a jetty and sent all their excess tanks, tractors machines etc into the ocean, if they couldn't take it no one would have it. That is why the area is known as Million Dollar Point as there was quite a lot of money tied up in that equipment.
We said good bye to Santo, we really enjoyed the country and loved the friendly and helpful people. We learnt a lot about their way of life and had a lot of fun in exploring their place. But the real adventure was yet to come. We boarded a little seven seater plane and headed for Tanna. This island is much smaller that Santo and in many ways a lot more isolated. There are no sealed roads on this island so getting around was very bumpy and took a long time. We stayed with a lovely couple called Tom and Margret who have some small bungalows they allow people to rent.
Last year Vanuatu was hit by a powerful cyclone, Tom said he lost all the roofs and a lot of other things, I was impressed by the work he had done to repair everything.
Naturally we went into the pristine waters to snorkel and met some very odd creatures indeed.
On this island I visited another village that prefers to keep to their traditional ways. Anni the wife of the village chief took us on a tour of her village and showed us the traditional way of making Laplap, a delicious dish made by grating banana, mixing with coconut meat and juice and placed in leaves and cooked over hot stones. She also told me how they read the jungle and use the seasons to know when to plant or collect certain foods. Like all villages they welcomed us with dance and song. The people in this village wear traditional dress so with respect for them I will just show you these images.
Near by is what Tanna believes is the world's largest Banyan Tree. I read that it was as large a football field and I was very skeptical ( that means I didn't quite believe it!). But I have to tell you it is true! It took me fifteen minutes to walk around.
Now it is hard to get a scale in this picture but if I stand next to one of the little sections you can see that the first branches are just starting to show.
But of course there was only one thing I really wanted to see on Tanna and that was Mount Yasur. The old man of the island the world's most accessible active volcano. I was hopeful that we would have a clear night in that it had rained quite heavily the night before. Yay, no rain! Now volcanoes have certain levels we needed to be aware of
0 – Low activity not much to see
1 – Normal Activity no real danger
2 – Moderate to high with intense activity visitors permitted but danger exists
3 – Severe activity dangerous – no visitors
4 – Major eruption extreme likely hood of danger to population
Of course I didn't want us to be put in danger but level two would be nice!
Being a volcanic region there is a lot of geothermal activity. Here a local woman is showing me how she uses the hot springs to wash her clothes and also to cook her food. she gives us some cooked banana to try.
Before we are allowed to enter the cars to ride up the steep road to visit Mt. Yasur, we need the permission of the tribal chief, thank fully he said yes!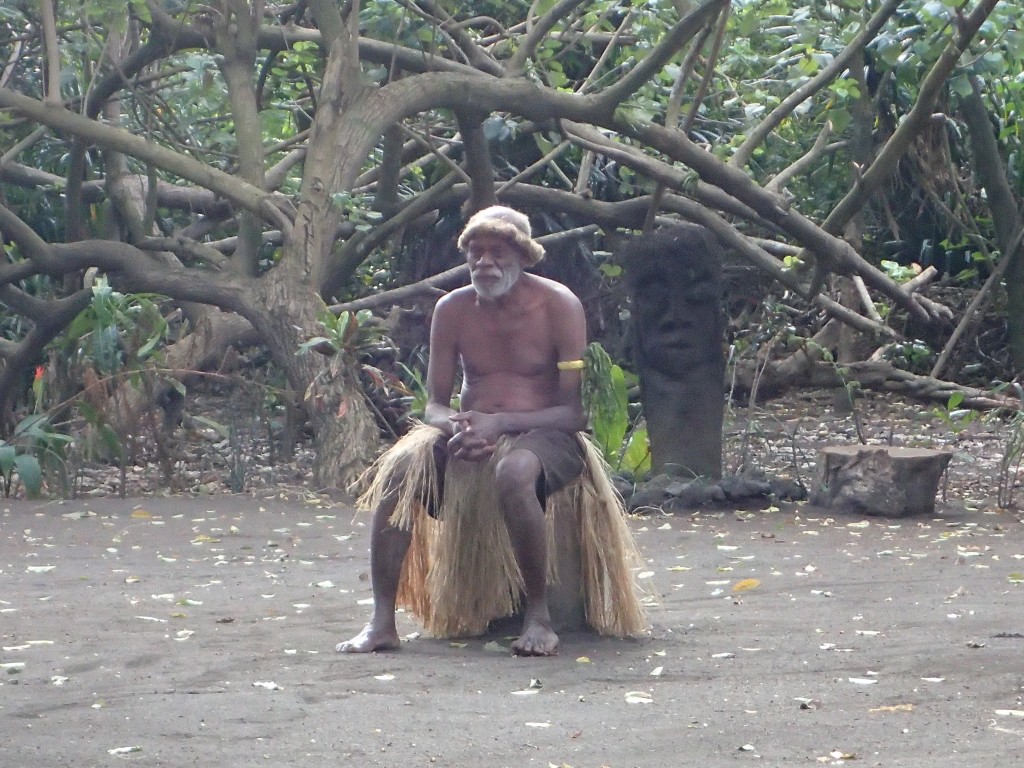 We depart around five o'clock that way we will be on the mountain as the sun goes down and the view is said to be spectacular. We found out it is level 2 with high activity yay!
4wds took us most of the way and we walked the last hundred or so metres. It was of course cold and very windy but how AWESOME IS THIS! to be on top of an exploding mountain a real live volcano, whoo hoo! Watch as the spectacular display develops as the darkness descends.
We watched this fantastic experience at a safe level about 600 m from the crater for about an hour and a half. Nothing will make me forget the whoosh and sound as the crater seemed to breathe and then belched rock, gas and heat continuously. It was truly mesmerising. But sadly all too soon it was time to descend the mountain. Ah, but I have movies! So I can relive Mt Yasur over and over again! Have you seen the Earth in its raw power? What did you see, where was it?
These were just some of the highlights of our time on Vanuatu, there were a few other adventures and events that took my breath away but the sun has set on this holiday. We are now planning another.
I shall share more in class. While it is fun to travel it's good to be home.